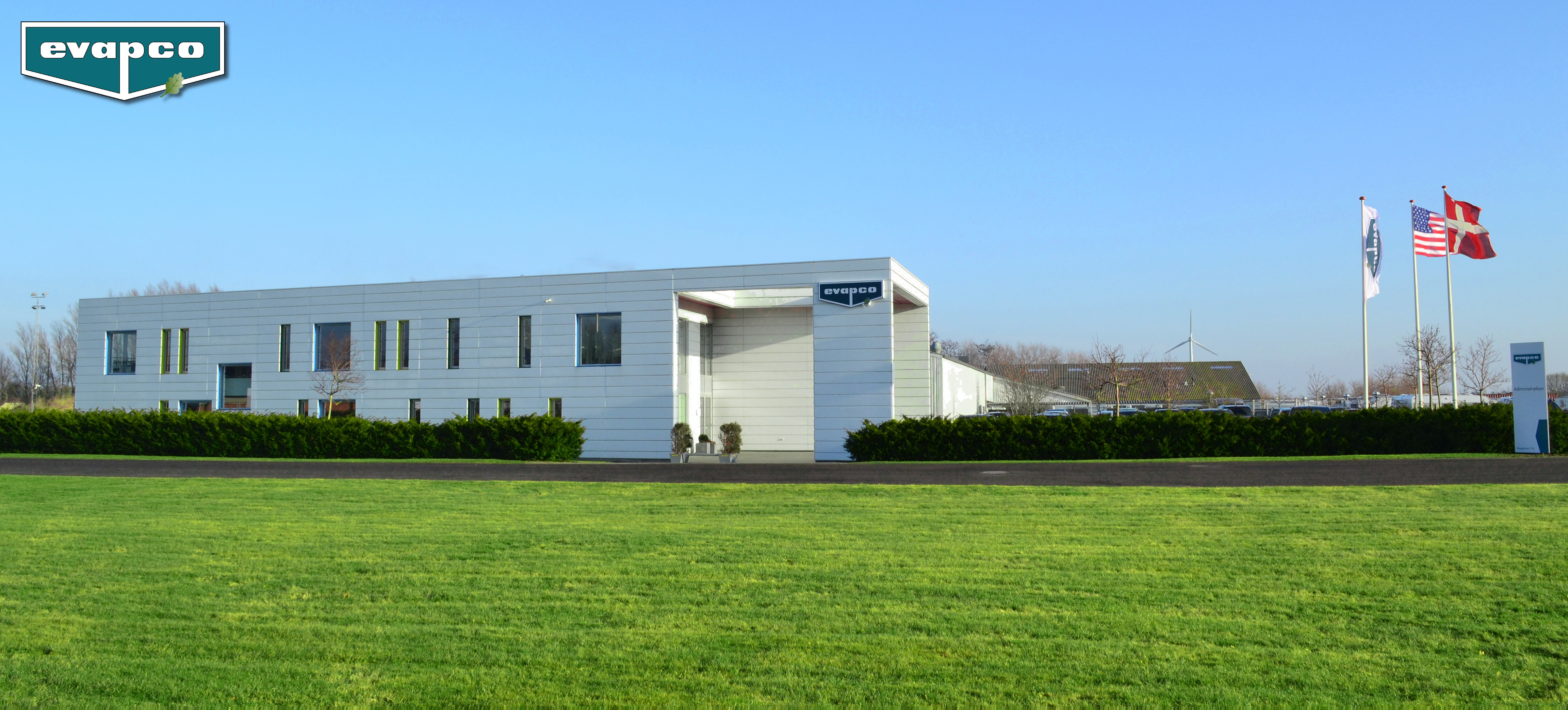 EVAPCO Europe A/S is a wholly owned subsidiary of EVAPCO Inc. Since its founding in 1976, EVAPCO Inc. has become an industry leader in the engineering and manufacturing of quality heat transfer products around the world. EVAPCO's mission is to provide first class service and quality products.
Get to Know EVAPCO
Serving the Commercial HVAC, Industrial Refrigeration, Power Generation, and Industrial Processing markets
Founded in 1976
Employee-owned
36 facilities in 14 countries
More than 200 sales offices worldwide
A wide range of products for:
Offshore
Power
Commercial HVAC
District Heating/Cooling
Dairy/Food
Exhaust gas/fumes
Sea or ground water
Ammonia
Corrosive media
High pressure
Industrial process
The flexibility of EVAPCO
EVAPCO supplies coils in many sizes and material combinations in accordance with the needs, wishes and requirements of our customers.
Vision
EVAPCO is one global team, united to be universally recognized as the superior provider of a full spectrum of heat transfer solutions.
Mission
EVAPCO is more than a company name – it is the team you can count on for a lifetime. We are a manufacturer of high quality, innovative products and services that thrives through our core principle of treating people right. We are empowered by a culture of excellence and an environment of continuous improvement. We put people first, fellow employees and customers alike. We shine through expert craftmanship and passionate dedication to fanatical customer service. We are EVAPCO - we are your team not just for a lifetime, but for generations to come.
Core values:
We are proactive and flexible in terms of serving our customers in the best way.

We have quality in everything we do and never compromise.

We focus on the development of new production technology and possess the necessary competencies

We have respect for each other and others and strive for a good working environment at the company.
Certification
The success of a Company is mainly based on Product Quality and Customer Service. Worldwide all customers are more and more interested in high quality products. This is the reason for constant research and improvements to meet the market quality requirements. Consequently, this has led to the development of quality system standards and guidelines that complement relevant product or service requirements given in the technical specifications. The International Standard (ISO 9001) includes the many and various activities in this field alongside the Pressure Equipment Directive (PED) 2014/68/EU that applies to the design, manufacture and conformity assessment of pressure equipment and assemblies.
Guarantee of Thermal Performance
EVAPCO guarantees the thermal performance of its equipment as shown on the performance datasheets, when the equipment is installed in accordance with good engineering practice. If after installation and start-up there is any question regarding thermal performance of the equipment, EVAPCO will send its engineers - at the owner's request - to the jobsite to conduct a performance test. This test may be observed by the owner and the consulting engineer or by their authorized representatives. If the results of the evaluation show the equipment to be deficient, EVAPCO will make the necessary repairs or alterations to correct the deficiency. If the equipment is found to be performing in accordance with the performance datasheets, the owner is expected to reimburse the company for its costs.